Leverage Your Strengths Through Sales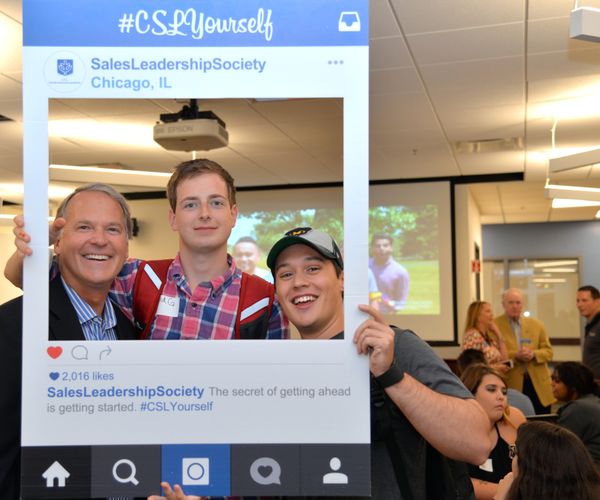 What is Sales Leadership?
LEARN: Courses: Nationally recognized faculty, hands on courses, and real world case studies with corporate partners give students unparalleled access to a unique community of shared knowledge. Take a class and declare a concentration/minor in Sales Leadership.
CONNECT: Community: Learn and grow in a welcoming and driven environment beyond our classroom walls. Network with peers, alumni, and partners in our Sales Leadership community.
GROW: Development: Students from first years to seniors benefit from 1:1 mentoring and career advising, access to a variety of skill development workshops, and take advantage of peer review settings for resume and interview preparation.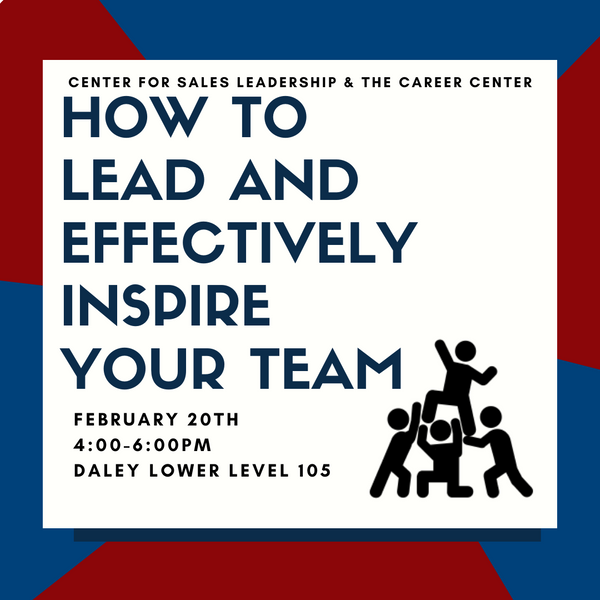 February 20, 2020 4pm - February 20, 2020 6pm
Join the CSL, Career Center and the Marketing Department for a panel discussion around best practices in leadership in marketing, analytics, and sales! We will have alumni panelists from Google, Bosch, Rise Interactive, and more.
Learn how to lead and inspire a team. The panel discussion will be followed by a lively networking hour with refreshments and employer representatives.
Join us for a fun evening centered around how to be a future leader in your career!
Daley Building LL205
MKT 377 Sales Fundamentals (Monday)
Cameron Dunaway
Anthony Zunnov
Honorable mention Samantha Steger
MKT 377 Sales Fundamentals (Tuesday)
Colin Brahler
Ellie Coughlin
MKT 378 Sales Strategy and Technology
MKT 380 Science of Retailing
Ruchit Patel
Gabrielle McEnaney
Honorable mention to Vanden Patel
MKT 383 Analytical Sales
Samantha Hollis
Vanden Patel
MKT 385 Sports Sales
Niklas Sommerer
Lucan Boehmer
MKT 386 Social Impact Sales
Elizabeth Greeson
Brezah Wade