Leverage Your Strengths Through Sales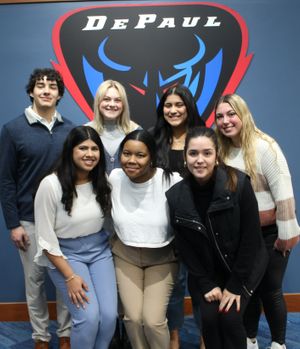 What is Sales Leadership?
LEARN: Courses: Nationally recognized faculty, hands on courses, and real world case studies with corporate partners give students unparalleled access to a unique community of shared knowledge. Take a class and declare a concentration/minor in Sales Leadership.
CONNECT: Community: Learn and grow in a welcoming and driven environment beyond our classroom walls. Network with peers, alumni, and partners in our Sales Leadership community.
GROW: Development: Students from first years to seniors benefit from 1:1 mentoring and career advising, access to a variety of skill development workshops, and take advantage of peer review settings for resume and interview preparation.
377 Sales Fundamentals
Grace Chittick
Riley Coesens
MKT 383 Analytical Sales
387 Shopper Insights & Marketing
September 21, 2023 3:30pm - September 21, 2023 5pm
Join us for a resume workshop, instead of only learning what should be on your resume hear from companies such as 3M, ADP, CH Robinson, Topco, Colgate, and others on what they are looking for on a resume. Those who attend the event will have the opportunity to have the companies to review and give feedback on your resume.
3pm - 4pm
Come meet companies to find out more about their internship and/or full-time positions. All will be held in the DePaul Center 7th floor suite 7400 from 3:00-4:00pm
more to come.....
October 5, 2023 3:30pm - October 5, 2023 5pm
If you could use practice in advance of upcoming interviews, this is a great opportunity for you. Get advice from professionals and our partners on presenting yourself at an interview. You will get one-on-one coaching and feedback to help you shine in an interview. Companies that will be there to help you will be CH Robinson, ADP, Colgate, Topco and 3M.
October 12, 2023 3pm
Please join recruiters, hiring managers, Department of Marketing faculty, industry experts, and fellow students at the Marketing Career Fair to explore internship, full-time job opportunities in digital, sales and marketing industries.
The event includes highly interactive round table discussions with recruiters and hiring managers regarding all topics of marketing with corporate partners