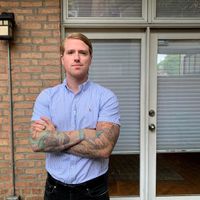 Thomas Carswell
Thomas is a Senior studying Marketing concentrating in Sales Leadership. Thomas is from Metro Detroit and migrated to the city to pursue a degree. Having previous marketing experience, Thomas is aiming to augment his skillset with the tools he gains at Depaul.
Outside of school, you can find Thomas walking his dog all over Wicker Park, or eating his way through all the food Chicago has to offer.
Feel free to reach out with any questions you may have for him about CSL!